Film Review: Dark Shadows (2012): When I heard that Tim Burton was going to direct a film version of Dark Shadows, the Gothic Soap Opera from the 60's, and that Johnny Depp was going to play Barnabas Collins, I was thrilled, as I am a huge fan of Burton's and Depp's. A year later, I saw the first trailer for the film, and I was crushed. Burton and Depp (who produced the film) had chosen to do it as a dark comedy! I thought it was an insult to the legions of fans out there, myself included, and a lost opportunity. I thought Burton would bestow upon it the same eerie, visually sumptuous style he'd used to make Sleepy Hollow, one of Burton's masterpieces. But, alas, that was not to be.
I almost decided not to go see the film I was so disappointed. But, seeing that there was nothing else worth watching at the time, I took a risk, bought a ticket, and took the plunge.
I am glad I did. You see, Tim Burton's version of Dark Shadows is worth seeing, despite its flaws, which are many. The film's pacing is uneven, the tone is schizophrenic (is it a dark comedy, a reverent parody of the original series, or something in between?), and the climax somewhat disappointing. But it is also immensely entertaining, has some admirably quirky touches, and manages to be quite a unique movie-going experience, with its unabashedly Gothic overtones, dark sense of humor, and freaky 70's atmosphere. Add to that endearing performances from Johnny Depp (who is obviously having loads of fun playing Barnabas), Michelle Pfiffer, and a scene-stealing Eva Green as the over-the-top villain, and you get an entertaining ride.
Although there's no denying that, overall, the film is disappointing to fans of the original series, as it is nothing but a glorified spoof, and Burton's directing isn't as meticulous and energetic as usual (for some reason, he seems to be operating on auto-pilot on this one), the film still manages to have enough of his flair to be a moderate success.
Book Review: Stories. Edited by Neil Gaiman and Al Sarrantonio: I fell out of love with short story anthologies a long time ago. There are dozens of them published every year, and only a handful that are worth the paper they are printed on. The deciding factor, always, is the editor. Stories, an anthology of tales that span many genres, but with a special focus on the fantastic, and edited by author Neil Gaiman and author and veteran editor Al Sarrantonio, is, for the most part, one of the better ones.
In his introduction to the collection of stories, Neil Gaiman says that all good stories, regardless the genre, have to have this one factor: While turning the pages, the reader has to keep asking him/herself, "And then what happened?". Out of the 27 stories included here, 16 had me asking that question as I lost myself in the tales. 16 out of 27 ain't bad, right? So, in my book, that makes this collection a success.
Out of these 16 stories, stand-outs include "The Truth Is A Cave In The Black Mountains" by Neil Gaiman, a thrilling story of revenge and magic; "Unbelief" by Michael Marshall Smith, a clever little tale about a hitman, with a neat twist; "The Stars Are Falling" by the incomparable Joe R. Lansdale, a touching and highly atmospheric story about a man who returns from a war to discover that the life he left, including a loving wife and a son, no longer exists; "Polka Dots And Moonbeams" by Jeffrey Ford, a wonderfully weird tale about two lovers stuck in time, that hops genres with astounding ease; "Leif In The Wind" by Gene Wolfe, a disturbing Sci-Fi tale that manages to pull off in 13 pages what many writers fail to achieve in a novel; "The Therapist" by Jeffrey Deaver, a clever tale about a psychopath who thinks he's possessed; "Parallel Lines" by Tim Powers, an entertaining ghost story; "The Cult Of The Nose" by Al Sarrantonio, a superb psychological horror story, and the best tale included here; "Stories" by Michael Moorcock, a touching and compelling tale about the lives of writers; "The Maiden Flight of McCauley's
Bellerophon"
by Elizabeth Hand, a wonderfully moving story about a group of friends who set out to recreate a film for a dying friend; and "The Devil On The Staircase" by Joe Hill, a frightening story about a boy from a poor village who comes face to face with a devil, and how that encounter changes him forever.
So if you are in the mood for a bunch of good short stories, some of them true examples of the art form, then look no further. Stories is it.
Film Review: 30 Days Of Night: Dark Days: I liked the feature film adaptation of the graphic novel 30 Days Of Night, but I didn't love it. The film was suspenseful, atmospheric, even occasionally frightening, and stylishly directed by David Slade. But the characters weren't that appealing, and the vampires pretty annoying. The sequel, 30 Days Of Night: Dark Days, is a far better film, in my opinion.
Co-scripted by Steve Niles (the author of the original graphic novel, and who wasn't involved in the making of the first film) and stylishly directed by Ben Ketai, Dark Days, is far more loyal to the source material, and the characters much more well-defined. The pace is better, and, despite the much lower budget, the atmosphere is thicker and the fright-factor higher.
Following the adventures of Stella Oleson (Olemaun in the graphic novel) and her quest for vengeance for the death of her husband, Eben, the film's pace never lets up while never sacrificing characterization for cheap thrills. Kiele Sanchez shines as Stella, a strong-willed warrior struggling with depression and trying to stave off madness with all her will. Working with a low budget and a good script, director Ben Ketai manages to do what David Slade couldn't in the first film, which is tell a good story, as the film is visually compelling, tightly edited, and dramatically effective at the same time.
Fans of the original film (not the original graphic novel) may scoff at the smaller scale and shift of focus and tone. But fans of the original graphic novel and good horror films will probably enjoy this ambitious low-budget effort for what it is: one of the best vampire films of recent years.
Book Review: The Mammoth Book of Wolf Men. Edited by Stephen Jones: I'll make this short and sweet. The Mammoth Book of Wolf Men is, hands down, one of the most entertaining anthologies I've read in quite some time. Forget the cheesy cover, and jump into these tales of suspense and horror, featuring some of the most enjoyable horror short stories out there. Edited by Stephen Jones and featuring 25 short stories and novellas, this is a book to lose yourself in; a book that has something for every one.
Highlights include the opening story "Twilight At The Towers" by Clive Barker, a disturbing and thrilling story of espionage and lycanthropy; Ramsey Campbell's "Night Beat", an enjoyable homage to EC comics and pulp fiction; "The Werewolf" by R. Chetwynd Hayes, an atmospheric classic; "Guilty Party" by Stephen Laws, an entertaining and fast-paced tale, written in smooth, uncluttered prose; "Rug" by Graham Masterton, a frightening psychological horror story about loss of innocence; Karl Edward Wagner's "One Paris Night", a delightful action-horror tale; Manly Wade Wellman's "And The Hairy Ones Shall Dance", an enthralling victorian-horror pastiche, replete with psychics, ectoplasm, and a swamp; "The Nighthawk" by Dennis Etchison, a terrifying and highly atmospheric tale of psychological horror; "Boobs" by Suzy McKee Charnas, a clever, coming of age tale with a dark twist; "Out of The Night, When The Full Moon Is Bright", Kim Newman's imaginative and energetic re-imagining of the Zorro legend.
Enough said. If it's a horror fix you're after, and you want to get your money's worth, buy this collection. You won't regret it.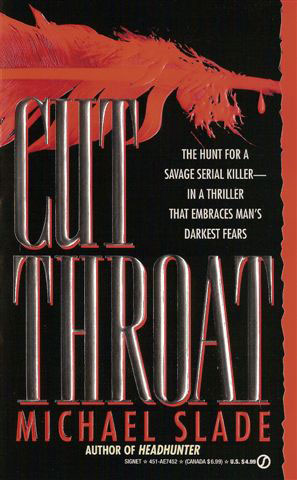 Extra! Cutthroat by Michael Slade: This edition's Extra! selection is the novel Cutthroat by Michael Slade, a superbly entertaining thriller. Violent, atmospheric, bizarre, and highly original, this novel about a special team of Canadian investigators hunting a seemingly invincible assassin, crosses genres with surprising ease, and ends with one of the strangest climaxes I've ever come across. Highly recommended.
That's it for me. Till next time, keep browsing those shelves.