Book Review: Titanic 2012: Curse of R.M.S Titanic

by Robert W. Walker

:
With 2012 (and the so-called "end of the world" along with it) just around the corner, expect an array of books featuring the word 2012 in the title. And with the centennial of the Titanic's sinking also taking place that very same year, expect a deluge of books featuring Titanic and 2012 in the title. Veteran author Robert W. Walker's latest book,
Titanic 2012: Curse of R.M.S.
Titanic
is one of these books.
But if you're familiar with any of Walker's previous works (he is the author of
more than 40 novels
), you know that the author never plays it safe, never settles on a single genre, and always delivers the goods.
Titanic 2012
is no different. Well, it's somewhat different, in that it is, arguably, Walker's most ambitious book to date. It's a techno-horror-Sci-Fi-suspense-historical thriller. It features many memorable characters, a couple of suspense set-pieces to die for, and much more.
The plot:
1912
: The world's biggest and most expensive ocean liner, Titanic, is about to set sail from Belfast, on its way to New York. But three people - a disgraced former Chicago police officer and two physicians-in-training - aim to stop it. As aboard that ship hides an ancient evil, a malevolent parasite that could bring the end of all humanity.
2012:
A team of scientists and divers aboard a high-tech salvage ship attempt, for the first time in more than twenty years, to reach the Titanic's remains and truly explore it for the first time in history, using state-of-the-art technology. But among them something awaits. An ancient evil that has been waiting for a century to free its young, to unleash its plague.
Jumping between the two story-lines, between past and present, Walker tells an intriguing, absorbing tale about good men, flawed men, greedy men, who are all - either knowingly or unknowingly - about to face the darkest battle of their lives. In essence, the reader is getting two novels in one: The story behind Titanic's sinking in 1912, and a modern Sci-Fi tale set in 2012. Both tales are highly effective. But, for me, the 1912 storyline was more entertaining and more satisfactory. Not only due to Walker's masterful evocation of early 20th century Belfast, but because it features one of my all-time favorite characters, Inspector Alastair Ransom, from Walker's previous novels,
City For Ransom
,
City Of The Absent
, and
Shadows In The White City
. Inspector Ransom is a marvelous character, deeply flawed, violent, intelligent, and all too human. He is a character that you can't help but root for. He is the ultimate anti-hero. And here, Walker gives the character free rein, provides us, the readers, with Ransom's greatest adventure, and also his darkest. I won't say anymore. But if you love Inspector Ransom, this book is a must. If you haven't yet been acquainted, then you're in for a treat.
The other storyline, set in 2012, is also entertaining and full of surprises, suspense, and mystery. It has an array of endearing characters, especially David Ingles, a hero with a dark past. This storyline gets better as its moves along, but it takes some time to get going. Well, actually, the whole book takes a while to get going. But that's part of its charm, part of why Walker's books work so well. He is a master of the slow-burn, of gradually building the suspense, turning the screws, till things go boom, literally or figuratively. But it also means that in these times of short-attention spans and the two to three page chapters, of the slam-bang thriller with no brains, this book could be considered too slow. And that would be a shame, since this is a meticulously researched, well-plotted, passionately written book, that reads like a collaboration between Jules Verne and Michael Crichton, with a dash of H.P. Lovecraft thrown in for good measure. But, in the end, it's vintage Robert Walker: Memorable characters who are haunted by their pasts, suspense that builds slowly but surely, vivid descriptions of gore and grue, an astute knowledge of forensics, and a compelling plot.
So who is this book for? Titanic aficionados will go nuts for it; fans of mystery/thrillers will have a hell of a good time with it; readers who are into techno-thrillers will enjoy it; and anyone who loves a story well told will cherish it. And if you happen to be a fan of the Inspector Ransom novels, well, consider this Robert W. Walker's gift to you. And what a gift it is.
* The book is now available to
buy from Amazon Kindle
. And for more info on where to buy this and other books by Robert Walker, visit the
author's official website
.

Extra!
Halloween Special Edition:
This edition of
Extra!
is dedicated to Halloween. So if you're looking for a scary movie or book to enjoy this Halloween, look no further. Here is a list of 24 titles to choose from. Some of them, hopefully, you've never heard of before. So, discover, enjoy, and scare the hell out of yourself this Halloween.
Books:
'Salem's Lot
by Stephen King
: The greatest vampire epic since
Bram Stoker's Dracula
, Stephen King's
'Salem's Lot
is a masterpiece of mood and characterization. This is early King at his best: Great characters, a great sense of place, terrifying set-pieces, and a touching and haunting finale. If you like horror/vampire fiction, do yourself a favor and read this book. Then, when you're done, read it again.

*The 1979 film adaptation directed by Tobe Hooper is also a low-budget masterpiece.
The October Country/Something Wicked This Way Comes
by Ray Bradbury
: Almost everything Ray Bradbury writes drips with a Halloween-like atmosphere. But these two books are so laden with mood, strangeness, emotion, and scenes
of otherwordly beauty, that they are perfect reading for Halloween. Although with Ray Bradbury you can never lose, if you're going to read only two of his books, these two are the ones for you.
Seize The Night/The Funhouse
by Dean Koontz
: Dean Koontz has written many books that would be perfect Halloween reading material (
Twilight Eyes
, anyone?). But for me, these two books are a notch above the rest.
Seize The Night
, the sequel to
Fear Nothing
(a book I didn't like very much, and which I considered preachy and overlong) is one of Koontz's masterpieces. It is atmospheric, has great characters, alternate dimensions, suspense sequences to die for, and lots and lots of suggestive horror; you know, the kind that lets your imagination do the work, not the kind that beats you over the head with gratuitous detail. And yes, it has cute animals, too, a super-intelligent dog and a cat.
The Funhouse
on the other hand is a lean, short novel (it's the novelization of Tober Hooper's
messy 1981 film of the same name). The book is much better than the movie. It has plenty of mood, garish carnivalesque visuals, and a nasty streak to it. It is early, uninhibited Koontz, and it's good fun. Perfect for Halloween.
The Howling
by Gary Brandner
: Brandner's modern take on lycanthropy redefines werewolves for modern times. This a nasty, erotic, violent little tale that is both disturbing and endlessly enjoyable. It was later made into a comedy-horror film that failed to capture the mood of the book. But with the book's focus on a creepy small town and things that go bump in the night, it's a good choice for Halloween.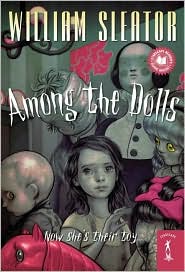 Among The Dolls
by William Sleator
: This obscure gem is a wonderfully written, haunting little tale, about a young girl who suddenly finds herself living amongst the dolls inside her dollhouse. Creepiness ensues. Although it's written for children, it's suitable for all ages. Highly recommended.
The Traveling Vampire Show
by Richard Laymon
: This Stoker Award winner is one of the two best books Laymon ever wrote (
The Stake
, another vampire tale, is the other one). It's a twisted coming-of-age tale, filled with the kind of overt sexuality Laymon has made his trademark, along with his masterful command of atmosphere and his unparalleled ability to pull the reader in, no matter how disturbing the story gets. This is a fun (in a twisted way), fast-paced, and superbly imaginative tale, that is guaranteed to make you like Laymon. And with its cast of freaky characters, its focus on a traveling band of monsters, and its weird finale, it's perfect for Halloween.
The Veil Trilogy (The Myth-Hunters, The Borderkind, The Lost Ones)
by Christopher Golden
: Christopher Golden has written many books that would be perfect for Halloween, but
The Veil Trilogy
, is a masterpiece of dark fantasy, and a great choice for Halloween reading.
Click here for the full review
.




Films:
Fright Night
: This 80's classic should be a Halloween staple by now. The film, centering around a horror movie buff who discovers that his next door neighbor is a vampire, is a near-perfect post-modern horror film: Funny, scary, visually stylish, and wonderfully written by writer/director Tom Holland. But what really seals the deal are two things: Roddy McDowell's superb performance as a has-been, aging actor who finds himself facing real monsters instead of the usual fake variety he battled in the cheap horror movies that made him famous, and Richard Edlund's awe-inspiring optical effects. If you want to know how good, fun horror movies used to be made, watch
Fright Night
. You won't regret it.
Fright Night Part II
: Although not as effective as the original, this 1988 sequel still retains enough of its predecessor's atmosphere to make it work. The effects are also great, and Roddy McDowell gets to shine even more as Peter Vincent, the cowardly vampire-hunter.
Halloween
: John Carpenter's masterpiece of minimalism and atmosphere
is a no-brainer for Halloween. But even of you've seen it dozens of time before, trust me, it never ages and never loses its power to unnerve and entertain.
Night Of The Living Dead
: George Romero's low-budget, expressionist classic is another one of those movies that never age and never lose their potency. This film, which re-defined zombies and made them things out of a black nightmare, instead of the stumbling, moronic monsters of the 30's and 40's, is so terrifying, so effective, that it has been remade several times but never equaled. Watch the entire film for free here
(Not suitable for viewers under the age of 18):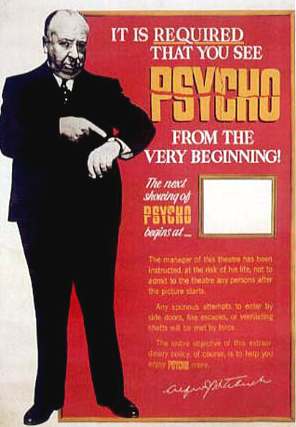 Psycho
: Alfred Hitchcock on fire. A shower scene that has become part of global pop-culture. Anthony Perkins delivering the best performance of his career. Did I mention that it's directed by Alfred Hitchcock? Enough said.
Let's Scare Jessica To Death
: A moody, low-budget horror film
that slowly buy surely sneaks up on you and gets under your skin. It's flawed, but it's also highly effective and unique.
Click here for a full review
.
The Shining (1980 and 1997)
:
The Shining
, a bestseller by Stephen King, has been adapted to the screen twice. Once, in 1980, as a feature directed by Stanley Kubrick and starring a demented Jack Nicholson as Jack Torrance, the tortured, alcoholic father and husband; and then as a mini-series in 1997; this version directed by Mick Garris and adapted for the screen by King himself. Both versions have merit. Kubrick's version is infinitely terrifying (it's often chosen as one of the scariest films of all time, and for good reason) and has Jack Nicholson going crazy, literally, on-screen. But it veers too much away from the source material, mucking-up the story in the process. The 1996 version has plenty of atmosphere, has a wonderful performance by Steven Weber as Torrance, and stays true to the source material. But, of course, it isn't as disturbing as the 1980 version. But both are perfect Halloween viewing.
The Haunting (1963)
: The greatest ghost story ever put on film, Robert Wise's film adaptation of Shirley Jackson's timeless novel is a must-see. It's a masterful exercise in subtlety, suggestion, and restraint. 47 years on and it's still unsurpassed. A no-brainer for Halloween viewing.
The Howling IV: The Original Nightmare
: This low-budget 1988 film,
directed by John Hough and released straight to video, is much better than its reputation would have you believe. Sure, the make-up effects are cheap, and the mostly re-recorded dialogue is atrocious. But Hough (
The Legend Of Hell House
) knows how to make a good horror film and is an able visual stylist, and despite the producers' tinkering with the film in post-production, there is enough left of Hough's original vision for the film to be effective and entertaining. And the creepy atmosphere is to die for. Not to mention that it's much more loyal to Gary Brandner's original novel than Joe Dante's humorous 1980 film adaptation.
That's it for me. So, till next Halloween, keep browsing those shelves.