Book Review: Origin

by J.A. Konrath

:
Mostly known for his Jacqueline "Jack" Daniels series of novels, J.A. Konrath has written a number of novels and short-stories spanning various genres (including horror, Sci-Fi and Crime).
Origin
is one of them, and a fine introduction to one of the most underrated and versatile American authors working today.
Origin
tells the story of Samhain (a top-secret government facility in New Mexico) and the people who work there. You see, Samhain is not just any ordinary top-secret government facility, no, it is a facility dedicated to studying a most unique prisoner. Satan. At least President Roosevelt thought so when he created the facility after the discovery of the demonic-looking creature (nicknamed "Bub" ) in Panama in 1906. Jump to the present day, when the creature wakes up after being in a century long coma. And speaks. English. After that, all hell breaks loose.
To tell you anymore of the plot of this strange and strangely compelling novel, would be unfair. Suffice it to say, this is an original, entertaining and nasty piece of work.
What makes this novel original is Konrath's ability to mix a number of genres to produce something truly unique. This is a scary and darkly humorous novel, often at the same time!
What makes it entertaining are the sharp, witty dialogue, its endearing characters - which Konrath manages to make memorable with just a few strokes of characterization - and his effectively minimalist style; as the story never gets bogged down with too much descriptive detail, although everything is always clear and the reader never gets lost or confused; a neat narrative trick, and one which many writers working today don't know how to pull off or just don't care to, thinking that long stretches of self-consciously florid descriptive passages make your writing richer. Konrath proves otherwise.
What makes this novel nasty is its undeniably dark and violent streak. As the last third of the novel is no-holds-barred carnage. If you have a weak stomach, don't even attempt to read this novel. Yes, it's that nasty.
But there's also something else that makes this novel work: It's cleverness. Just when you think you got it all figured it out, Konrath pulls a fast one and pushes the story into another direction. That's not to say there are mind-blowing plot-twists, not really, but Konrath is clever enough to utilize cliches to make the reader comfortable, and then wham! Something goes wrong. Konrath also makes some interesting points about the nature of faith and organized religion. And he doesn't takes the easy way out. Instead, he uses science to try to explain the nature of " Bub" and what he really might be. Although some readers might find the techno-jargon a bit much, I found it fascinating, and thought it enriched the novel.
In his author's note, Konrath admits that he wrote this novel as a blockbuster, and it shows. This isn't literary fiction. This is an entertaining, stylish piece of work for people who like good books that are also
fun
. Period. So, if you are looking for an intelligent techno-thriller that's also a horror novel that's also a darkly humorous tale, look no further than
Origin
. You won't regret it.
* The novel is available to buy or download from the author's website.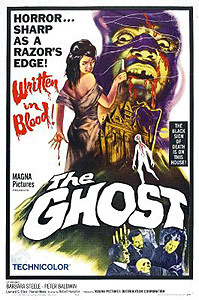 Extra!

The Ghost/Lo Spettro (1963)
: This edition's
Extra!
selection is the horror film
The Ghost/Lo Spettro,
directed by Riccardo Freda. Freda (one of Mario Bava's mentors) injects this psychological ghost story with plenty of style and atmosphere, while Barbara Steele gives one of her best performances as the traitorous wife tormented by the ghost of her invalid husband, the malevolent Dr. Hichcock. This obscure oddity is a fine ghost story worth rediscovering.
That's it for me. Till next time, keep browsing those shelves.